Why data structures concepts are important
Many a times Computer Science graduates devalue the importance of learning data structures and algorithms considering it as complicated, irrelevant or a waste of time. However they soon get a reality check when they enter the real-world for job hunting. Big Companies like Amazon, Google, Microsoft often ask questions related to algorithms and data structures to check the problem-solving abilities of the candidates
So, Prepare yourself for tech interview by learning Data Structures and Algorithms Concepts
It's really important to understand the real-world significance of algorithms and its properties because using different ideas one can design many algorithms for computing a solution to a given problem. Key important questions in algorithms are
🚀 How do we design good algorithms?

🚀 How do we know that our algorithm is efficient ?

🚀 How to efficiently implement algorithms in a programming language?
Let's look at some important product-based companies that test data Structures and algorithms skills in coding rounds:
Company
Average Package in INR
Google
25 Lakh
Amazon
25 Lakh
WalmartLabs
23 Lakh
Flipkart
23 Lakh
Microsoft
24 Lakh
Uber
21 Lakh
Abobe
18 Lakh
Intuit
19 Lakh
Apple
21 Lakh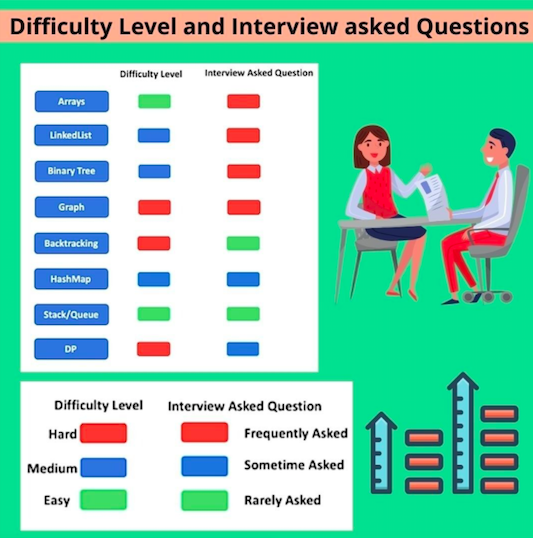 During the Coding Interview
Congratulations, you are ready to put your skills into practice! In a real coding interview, you will be given a technical question (or questions) by the interviewer, write code in a real-time collaborative editor (phone screen/virtual onsite) or on a whiteboard (onsite) to solve the problem within 30-45 minutes. This is where the real fun begins!
Upon receiving the data structure interview questions
Many candidates jump into coding the moment they hear the question. That is usually a big mistake. Take a moment to repeat the question back at the interviewer and make sure that you understand exactly what they are asking. Repeating back/rephrasing the question will reduce chances of miscommunication.
Some common questions you can ask:
1.How big is the size of the input?
2.Are there duplicates within the input?
3.Can I destroy the original array/graph/data structure?
4.What kind of values are there? Are there negative numbers? Floating points? Will there be empty inputs?
After you have sufficiently clarified the scope and intention of the problem, start with a brute force approach, communicate it to the interviewer, explain the time and space complexity and why it is bad. It is unlikely that the brute force approach will be one that you will be coding.
At this point, the interviewer will usually pop the dreaded "Can we do better?" question, meaning that they are looking for a more optimal approach. In general, look for repeated work and try to optimize them by potentially caching the calculated result somewhere and reference it later, rather than having to compute it all over again.
What to do when stuck
Getting stuck during coding interviews is extremely common. But do not worry, that is part of the process and is a test of your problem solving abilities. Here are some tips to try out when you are stuck:
🚀 Talk through what you initially thought might work and explain why it doesn't

🚀 Come up with more test cases and write them down

🚀 Think about how you would solve it without a program

🚀 Recall past questions related to the topic, what similar questions in the past have you encountered and what techniques did you use to solve them?

🚀 Enumerate through the common data structures and whether they can be applied to the question. There really aren't that many - stack, queue, dictionary, heap, graph, etc.

🚀 Look out for repeated work and determine if you can cache those computations.
While coding
Write your code with a neat coding style (consistent indentation, spacing around your operators). Reading code written by others is usually not an enjoyable task. Use clear variable names, avoid single letter names unless they are for iteration.
Always be explaining what you are currently writing/typing to the interviewer. This is not about literally reading out what you are typing to the interviewer. Talk about the section of the code you are currently implementing at a higher level, explain why it is written as such and what it is trying to achieve.
After coding
After you have finished coding, do not immediately announce to the interviewer that you are done. In most cases, your code is usually not perfect and contains some bugs or syntax errors. What you need to do now is to review your code.
Next, take the initiative to come up with small test cases and step through the code (not your algorithm!) with those sample input. What interviewers usually do after you have finished coding would be to get you to write tests. It is a huge plus if you write tests for your code even before they prompt you to do so.
Lastly, give the time/space complexity of your code and explain why it is such. If your interviewer is happy with the solution, the interview usually ends here. It is also not uncommon that the interviewer asks you extension questions, such as how you would handle the problem if the whole input is too large to fit into memory, or if the input arrives as a stream.
Being able to solve these extension questions will indicate that you are a strong candidate which will likely lead to a better offer.
Data Structure Interview Questions
A data structure offers a convenient way of organizing as well as manipulating the data. Simply put, it allows the data to be used in an effective manner. There is a galore of data structures and each of them is suitable for a distinct set of applications.
It is a fundamental concept of any programming language, essential for algorithmic design.
Data structure isn't a programming language like C, C++, java, etc. It is a set of algorithms that can be used in any programming language to organize the data in the memory.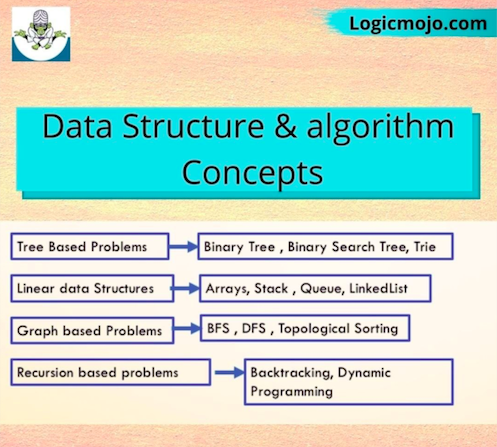 This is one of the most frequently asked data structures interview questions where the interviewer expects you to give a clear answer. Data structures are of two types:
Linear Data Structure: Linear data structures are those whose elements are in sequential and in ordered way. For example: Array, Linked list

Non-Linear Data Structures: The Non-linear data structure does not form a sequence i.e. each item or element is connected with two or more other items in a non-linear arrangement. The data elements are not arranged in the sequential structure. For Example : Graphs, Trees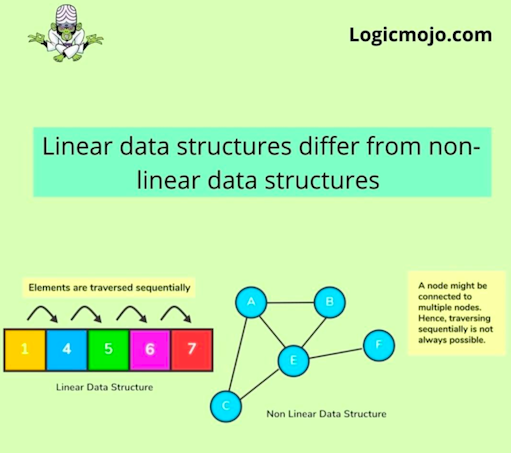 These are some of the most frequently asked Data Structures interview questions. The questions depend on your level of experience and the position you are interviewing for. In general, companies try to assess how good you are in things you claim to know.
We hope that the above Data Structures interview questions have sufficed in explaining to you how important it is to study Data Structures and Algorithms. Do not be disheartened if you don't know how to take the necessary steps in improving your knowledge on DSA and getting the job you had in mind while answering these Data Structures interview questions.